American Dream: Mega Millions grows to $1.35 billion!
This Friday, January 13, there could be a new billionaire, and the Mega Millions prize could fall anywhere in the world. Could it break a new record?
---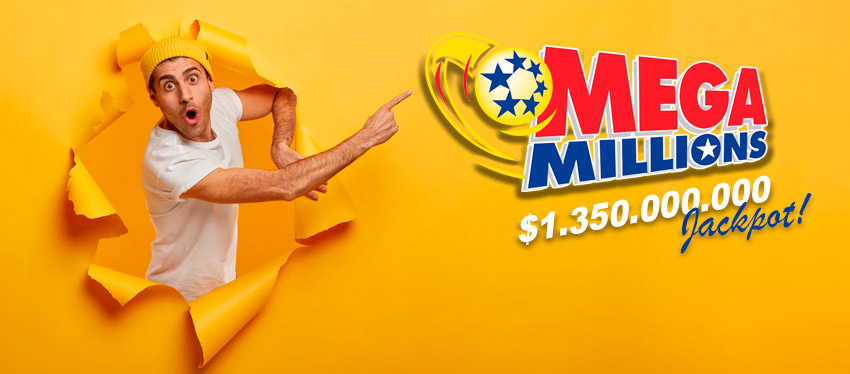 For years, U.S. lotteries have been making waves around the world. In 2022, Powerball was crowned with the new record of the lottery with the biggest prize in the world by distributing the accumulated prize of $2.04 billion. Now, 2023 has just begun and Mega Millions is already aiming to break the new record.
The $1.35 billion jackpot already ranks as the second largest jackpot in the history of the Mega Millions lottery and the fourth largest jackpot in the world at the moment. Buying a ticket with the expectation of winning is definitely worth it!
What are the odds of winning the Mega Millions jackpot?
Although the expectations of winning the prize are very high, as in any game of chance, the probabilities of winning are usually not as high. And Mega Millions is no exception: the odds of winning the first prize or jackpot are 1 in 302,575,350. But precisely the fact that there are so few chances of winning is what makes its prizes more and more attractive.
Fortunately, although we all dream of the first prize, the Mega Millions lottery also offers us other possibilities to win big prizes by matching fewer numbers. And the good news is that, as the amount of numbers needed to win these prizes is smaller, they are usually easier to win compared to the first prize.
In total, Mega Millions offers 9 prizes, including the jackpot. But, while the jackpot is variable depending on the amount accumulated in the pool (and it is also shared among all winners in case there is more than one winning ticket), the rest of the prizes have a fixed amount for each player who correctly hits. For example, the second prize of Mega Millions has a value of 1 million dollars. If there were more than one winner in this category, all of them would win a prize of 1 million dollars.
In this table, we summarize all the Mega Millions prizes, the amount of numbers needed to win, their odds and the amount of the prize:
| | | | | |
| --- | --- | --- | --- | --- |
| Category | Numbers | Mega Ball | Odds of winning | Prize per bet |
| 1 | 5 | 1 | 1 : 302.575.350 | Jackpot |
| 2 | 5 | 0 | 1 : 12.607.306 | $1.000.000 |
| 3 | 4 | 1 | 1 : 931.001 | $10.000 |
| 4 | 4 | 0 | 1 : 38.792 | $500 |
| 5 | 3 | 1 | 1 : 14.547 | $200 |
| 6 | 3 | 0 | 1 : 606 | $10 |
| 7 | 2 | 1 | 1 : 693 | $10 |
| 8 | 1 | 1 | 1 : 89 | $4 |
| 9 | 0 | 1 | 1 : 37 | $2 |
How can I improve my chances of winning the Mega Millions jackpot?
Like all games of chance, winning or not winning the Mega Millions prize depends exclusively on luck. But that doesn't mean we can't push our chances of winning a little further.
But to improve your chances of winning, nothing better than listening to the experts - and what better expert than the man who won the lottery 7 times! Richard Lustig was an American who became famous between the 1990s and early 2000s for having won 7 games of different American lotteries, totaling more than 1 million dollars. In his book "Learn how to increase your chances of winning the lottery", he transmitted us a couple of lessons worth keeping in mind to win the Mega Millions jackpot:
Play many numbers: If each lottery ticket has 1 chance in millions, the key to increase the chance of winning is to buy lots of tickets that allow you to diversify your bets.
Don't spend more than you can afford: The key to be able to continue playing in a sustained and healthy way is to know how much you can afford to spend so you can enjoy it. In addition, establishing a realistic budget will allow you to better define the amount of numbers you can buy for each draw, in order to be able to play sustainably over time.
Play in teams: A good strategy to be able to buy as many tickets as possible with the budget you have set is to play in groups with several players, since in this way it is possible to buy many more tickets to share among several players. In Lottofy, we have several modalities so that you can also play as a team: the Mega Millions syndicates and funds.
Choose numbers higher than 31: It is not that there are statistics that indicate that numbers higher than 31 are the most favorable to be drawn. But what is true is that numbers lower than 31 are usually the most chosen by people, since they coincide with the days of the calendar, and many of us like to choose numbers that refer to special dates for us. Most likely, if you win with a ticket with numbers less than 31, there will be many players with your same numbers and you will have to share the prize.
Keep constant: Lusting's last advice is to keep calm when playing and not to lose faith in the numbers we have chosen. Playing always the same numbers, according to the expert, can be more favorable to win prizes in the long run.