Best casino movies to watch over the weekend
No plans for the weekend? Here's a list of the best casino movies of all time.
---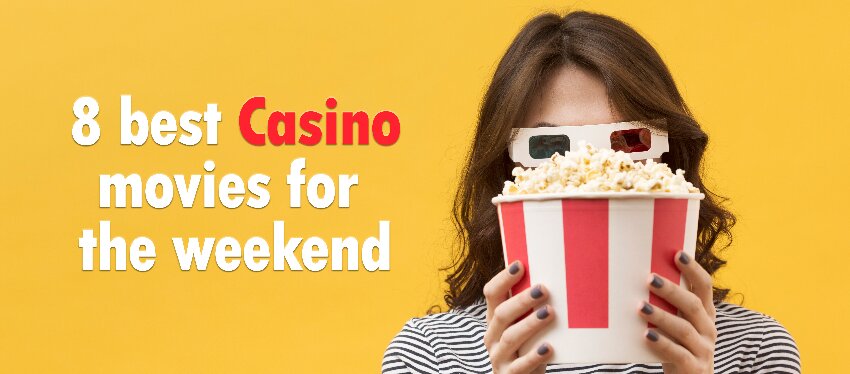 If you are one of those indecisive people who never know which film to choose to watch at the weekend, you will no longer have any more excuses for spending hours in front of the TV, endlessly scrolling through the film catalogue without deciding to watch any of them. In this post, we'll suggest 8 films about casinos games and gambling that no player should miss.
8. Blackjack (2008)
We know that, in some countries like the United States, studying at university can be very expensive. That is why the student Ben Mezrich (Jim Sturgess), who has a natural gift for playing cards, decides to join a very particular group of students, the MIT Blackjack Team, a team of students from the Massachusetts Institute of Technology who dedicate themselves to playing the famous card game blackjack to raise money for their studies.
Encouraged by an unconventional mathematics professor and statistical genius, Micky Rosa (Kevin Spacey), the group begins to develop sophisticated statistical and card-counting techniques that help them to start winning exponentially in the casinos of Las Vegas, until their strategies begin to raise suspicions and things start to get out of control. Based on a true story, this is a must-see film if you want to get hooked on a gripping story.
7. The Hangover (2009)
This classic comedy movie is a must-see on any casino film list. For almost 2 hours, it's impossible to stop laughing when watching the ups and downs of this perfectly normal group of friends, as things start to get more and more out of control in what should have been a normal bachelor party in Las Vegas.
A Chinese man locked in the fridge, a tiger in the bathtub, an abandoned baby and the mysterious disappearance of a tooth, are just some of the things this group of friends find at dawn after a night of partying. There seems to be all sorts of things in the hotel room, except for the most important one: the groom has disappeared and, to make matters worse, none of the 3 friends remember anything about what happened last night. So begins the hilarious odyssey to find the groom and get him to the wedding on time.
6. Croupier (1998)
This is probably the film that launched actor Clive Owen to fame. In this film, he plays Jack Manfred, an aspiring writer with very few successes up his sleeve.
Overwhelmed by financial difficulties, Jack decides to take a job as a croupier in a local casino. But, against the casino's policies, he begins a relationship with another employee and a disreputable gambler, which will drag him down a difficult path. A psychological plot that deals very well with the moral tension between the character's ethics and his temptations, in one of the most successful casino atmospheres in cinema.
5. Gilda (1946)
One of the most important and best-known successes of classic cinema, bringing together two of the most famous film stars of all time: Rita Hayworth and Glenn Ford. A story of love and hate, revenge, hustlers and gangsters, set in a clandestine casino for the upper class in Buenos Aires, Argentina.
The story stars Johnny Farrell, an American who cheats at craps for a living and is eventually hired by Ballin Mundson, a stranger who one day gets him out of trouble, as manager of the illegal casino in Buenos Aires that caters to high society. All seems to be going well until Mundson returns from one of his trips with a new wife, Gilda. But although Mundson has only known Gilda for a few days, Johnny recognises her immediately: she is the woman who has made him the cynical and bitter man he is.
4. Ocean's Eleven (2001)
This is one of those films that manages to combine the best of action, intrigue and comedy into almost 2 hours of absolute entertainment. With one of Hollywood's most recognisable all-star casts, including George Clooney, Matt Damon, Andy Garcia, Brad Pitt and Julia Roberts, it's one of those films that never disappoints.
The charismatic thief Danny Ocean (Clooney) doesn't wait 24 hours after his release from prison to plan his next heist: pulling off the biggest casino robbery in history. And he won't be alone in this task. To accomplish what seems like an impossible mission, he assembles a team of eleven expert men, who will help him try to make his dream come true.
3. Casino Royale (2006)
The 21st film of the James Bond saga, starring Daniel Craig, is perhaps one of the most famous films ever made about the British spy 007, with licence to kill.
In order to dismantle a criminal network led by Le Chiffre (Mads Mikkelsen), known as the banker to the terrorists, Bond must defeat him in one of the most famous poker games in cinema history, where much more than money is at stake.
2. Casino (1995)
This masterpiece of classic noir cinema by Martin Scorsese is at the top of the list for having given us one of the most exquisite casino couples in the history of cinema, the duo starring Robert De Niro and Sharon Stone.
The story follows a gambling professional nicknamed "Ace" (De Niro), who in 1973 is the effective manager of a Las Vegas casino owned by a group of unscrupulous mobsters. But although Ace runs the casino with an iron fist, things start to get complicated when Nicky Santoro (Joe Pesci) is sent by the mafia ostensibly to protect him, and when Ace falls in love with Ginger McKenna (Stone), an efficient professional hustler.
1. The Sting (1973)
The Sting, directed by George Roy Hill and starring Robert Redford and Paul Newman, tops the list as one of the most awarded films of all time, winning 7 Oscars out of the 10 for which it was nominated, including Best Film, Screenplay and Director.
In the midst of the 1930s depression, con men Johnny Hooker (Redford) and Henry Gondorff (Newman) decide to avenge the death of a friend killed by a powerful gangster by hatching an ingenious scheme to swindle him. One of the most renowned films in cinema, whose famous poker scene on the train is not to be missed if you are a fan of this card game.