How to play Mega-Sena, the most popular lottery in Brazil
Find out all the information about the draw that could leave a new millionaire this Saturday: rules, prizes, odds and other tips.
---
Mega-Sena has everything a lottery player is looking for: low prices and very high jackpots! This is why it has been the most popular lottery in Brazil for years. This Saturday, a jackpot of 100 million reais will be at stake again and, with the luck getting closer and closer to come out, in this article we tell you everything you need to know to play your bets.
Mega-Sena: how to play
Mega-Sena is a very simple lottery game, where you have to choose 6 numbers out of 60 (from 1 to 60) in order to participate. On the day of the draw, 6 numbers are chosen at random and, if your numbers match those of the draw, congratulations: you have won the jackpot!
Mega-Sena Prizes
Mega-Sena offers a total of 3 prizes, depending on the amount of numbers you match in your bet:
Sena: This is the main prize, it is won by matching all 6 numbers of the draw. It corresponds to 35% of the amount collected for the draw.
Quina: It is the second prize, it is won by matching 5 of the 6 numbers drawn. It corresponds to 19% of the amount collected for the drawing.
Quadra: The third prize is won by matching only 4 of the 6 numbers drawn. It corresponds to 19% of the amount collected for the raffle.
The rest of the collected amount is destined to different special prizes during the year and to other social causes.
Mega-Sena starts in each edition with an initial jackpot of 3 million reais, which is accumulated draw after draw until there is a winner of the first prize, so it can grow unlimitedly.
Multiple Bets in Mega-Sena
Although Mega-Sena's minimum bet allows you to choose only 6 numbers per bet, there is the possibility of increasing your chances of winning by choosing up to 15 numbers out of 60 in the same bet, by playing multiple bets.
The multiple betting system allows you to increase your chances of winning by adding additional numbers to your bet, as it is equivalent to placing multiple single bets with all the possible combinations of the numbers you choose.
Mega-Sena Winning Odds
The odds of winning a prize in the Mega-Sena lottery vary depending on the category of the prize (Sena, Quina and Quadra) and the amount of numbers you select in your bet.
Below, we will exemplify this in a table of od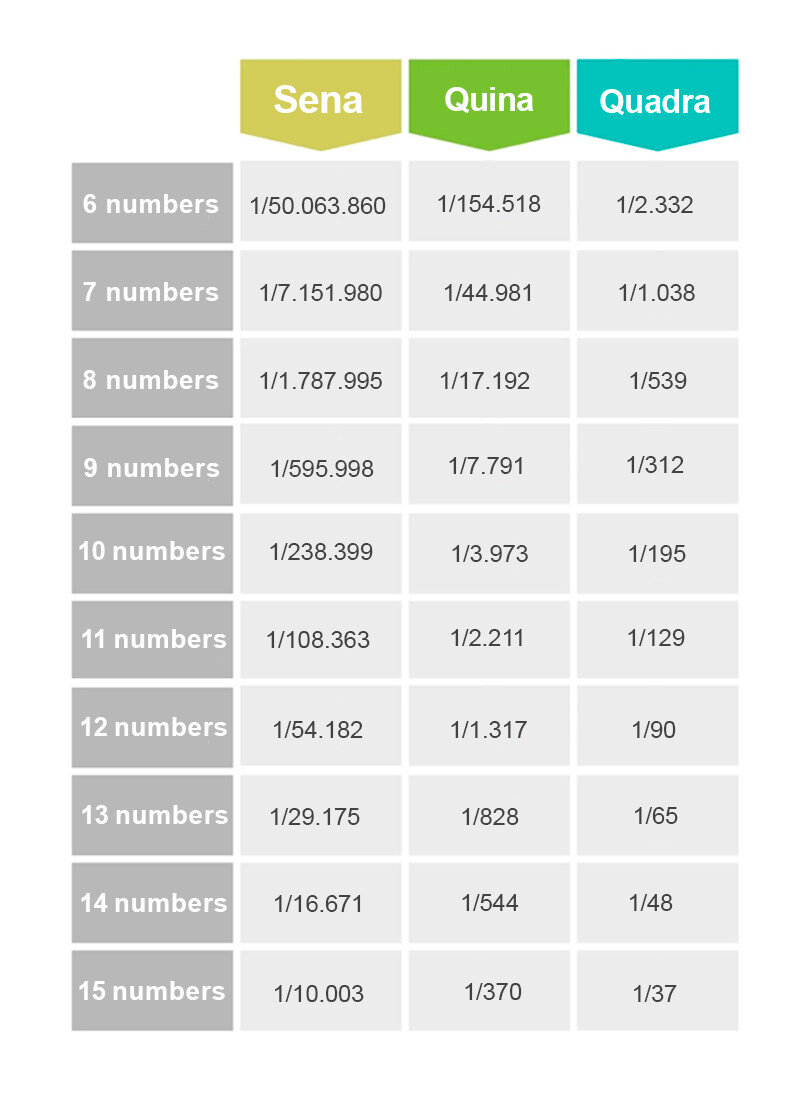 Mega-Sena Special Drawings
Throughout the year, Mega-Sena offers a series of drawings with special prizes. These are:
Mega-Sena da Virada
Held once a year on December 31 (to commemorate the new year), Mega-Sena holds a special draw that begins to be commercialized in November, independently of the rest of the ordinary draws.
The main attraction of this draw is that it draws very large prizes and, in addition, the prize is always distributed: if there is no winner of the first prize (Sena), the prize is distributed among the winners of Quina or Quadra, so there are more chances of winning.
Mega-Sena drawings with final 0 or 5
If the Mega-Sena draw number matches a number with ending 0 or 5 (for example, edition number 2050 or 2055), the jackpot accumulates more special prizes, so bigger prizes are played. So it pays to keep an eye on these editions to be able to win more prizes!
Mega-Sena's most frequently numbers
If you are one of those who like to corroborate the statistics of the draws to choose the numbers for your bets, we tell you which are the numbers that have been historically drawn the most in Mega-Sena, as well as those that have been drawn less often, so that you can take them into account when choosing your winning combination:
Mega-Sena's most drawn numbers: 53, 10, 05, 42, 37, 04.
Mega-Sena's least drawn numbers: 26, 55, 21, 15, 22, 48
When are the Mega-Sena drawings?
Mega-Sena holds two weekly drawings: on Wednesdays and Saturdays at 8:00 pm (Sao Paulo time).
Both draws are the same in terms of prize value, odds and game mode. You can play each draw individually, or subscribe to the weekly draws to participate in all draws automatically, without missing any bets.