New Powerball record jackpot: $1.900 millions at stake!
This week begins with a record-breaking jackpot in lottery history, with the Powerball jackpot still looking for a new winner.
---
We have to go back to January 13, 2016 to find the jackpot that at the time became the largest prize ever won in a lottery, when the Powerball lottery announced the winners of the record $1580 million prize.
Today, 6 years later, Powerball is breaking its own record again, putting the historic $1.9 billion jackpot at stake in this Monday's drawing at 10:59 p.m. EST.
Undoubtedly, this jackpot is attracting more players than ever from all over the world, both regular and new players, who aspire to become the new multimillionaires with their lucky numbers.
If you are a regular player, what are you waiting for?, don't miss out on your ticket! But if you are a new player and you need some tips and help to play Powerball, keep reading, because you are in the right place.
Learn how to play Powerball step by step
The great thing about Powerball, besides its huge prizes, is that it is a very easy lottery to play, ideal for new players. It is a lottery with a 5+1 format. This means that to complete a bet you will have to choose 5 numbers (from 1 to 69) plus 1 additional number called Powerball (from 1 to 26).
Each Powerball ticket allows you to complete from 1 to 5 single bets, depending on the number of bets you want to buy. If on the day of the drawing, the numbers of any of your bets match the numbers drawn, you will win the jackpot!
The Powerball jackpot is cumulative, which means that it can keep growing draw by draw until there is a winner. However, you should also keep in mind that Powerball draws 8 other secondary prizes for those players who match at least the Powerball number. These secondary prizes have a fixed value for each player who matches them. Therefore, Powerball draws a total of 9 categories of prizes, which are detailed in the following table: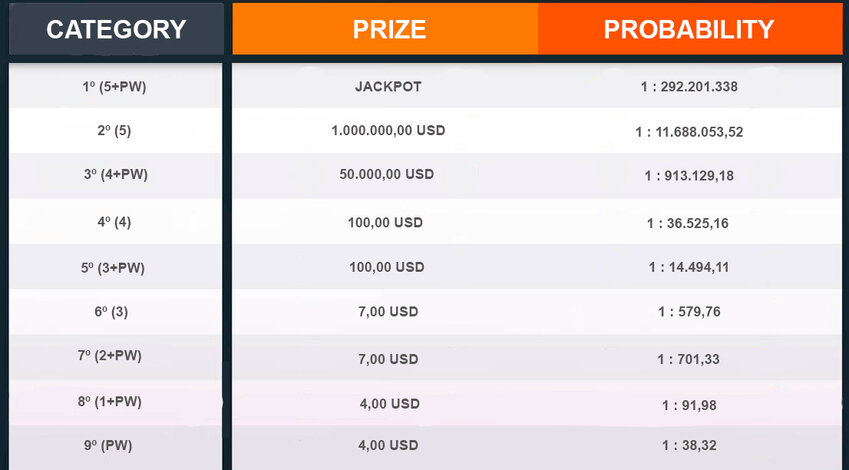 How to improve the odds of winning Powerball?
Like all lotteries that draw such big prizes, the odds of matching the 5 winning numbers plus the Powerball number are very low. However, there are some strategies you can apply to increase your chances of winning:
Playing multiple bets
Multiple bets allow you to select more numbers in the same bet. If in a single bet you can select 5+1 numbers, in a multiple bet you can select from 6 to 11 numbers per bet.
What is the advantage of multiple bets? By increasing the amount of numbers in the same bet, there is a greater chance that some of these numbers will form the winning combination of the draw.
Besides, in Lottofy you have an exclusive system of multiple bets, the super formulas, which allow you to optimize your multiple bets, applying mathematical formulas that intelligently reduce the combinations of your numbers, which allows you to reduce costs, while maintaining a desired percentage of success.
Joining a Group
Groups (also called syndicates) allow you to play several bets at the same time without having to pay out large amounts of money, which also increases your chances of winning. In this type of game, each participant in the group buys one or more participations and, with all the money from these participations, several bets are bought.
The bets that win prizes are distributed among all the participants of the group, according to the amount of participations that each one has contributed. Thus, even if playing in a group is not possible to win the whole prize, there is a better chance of winning at least a part of it!
Participate in a Fund
The funds are another Lottofy exclusive game system, similar to the groups, but with a different dynamic: in a fund, all participants agree to share 50% of the prize if their bet wins any of the prizes.
The advantage of the funds is that, although you may have to give up 50% of your prize in case you win, it also gives you access to 50% of the prizes of the other players who win, regardless of whether your bet is a winner or not.
What numbers should I play in Powerball?
Although as in any lottery, the results of each draw depend only on chance, if you are a bit uncertain about the numbers you should play, we can help you by telling you which numbers have been drawn the most in Powerball's history and in recent draws. And, if luck continues to favor these numbers, maybe they can help you win!
Most drawn numbers: 32, 39, 22, 41 and 36
Most drawn Powerball numbers: 18, 24, 6, 20 and 26
Most drawn numbers in the last years: 61, 32, 21, 63 and 69
Most drawn Powerball numbers in the last years: 24, 18, 4, 4, 13 and 21