Powerball vs Megamillions
We analyze the American lotteries that bring into play the biggest jackpots in the virtual world.
---
The biggest jackpots in the world are played by the American lotteries Powerball and Megamillions, which are the lotteries that collect the most money and, therefore, the ones that accumulate the biggest prizes. But how are these lotteries similar?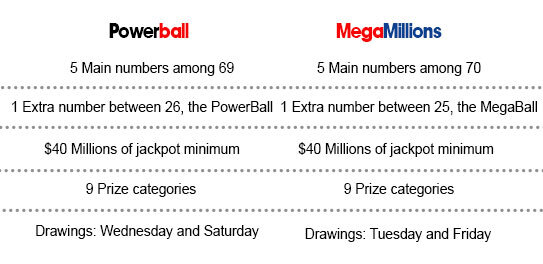 Looking at the main features of both draws, it may seem that there is little difference between them. And practically it is so, of the 9 prize categories, except in the main category (5+1) that the probabilities of winning the jackpot are higher in Powerball, in the other categories the prize probabilities are similar.
But if we look at the probability of winning any prize, MegaMillions has an advantage, as it has 1 in 15 chances of winning any prize.
Still, someone has to win, right? And it's clear that, in order to win, you have to participate.
As for the popularity of the draws, it varies depending on their jackpots, with Powerball and Megamillions jackpots reaching stratospheric figures. Both lotteries seem to be in continuous struggle to get the biggest prize and top the ranking, but the honor of having distributed the highest jackpot in lottery history goes to Powerball, whose jackpot of $ 1.586 billion in January 2016 was divided among three winners.