The lottery winning formula of Larry & Marge
The true story behind the new Paramount+ movie about the mathematician who developed his own system for winning the lottery
---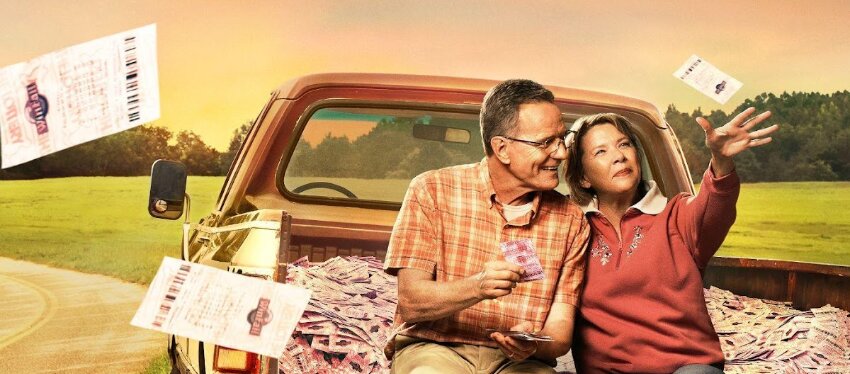 The new film Larry & Marge Go Large produced by Paramount+ and directed by Oscar winner David Frankel (The Devil Wears Prada, Marley and Me), tells the true story of Jerry Selbee, played by Bryan Cranston (Breaking Bad), a retired mathematician who proved that, to crack the lottery, you don't need a future ball, you just need to know a little basic arithmetic and read the fine print on the draw.
The true story behind the movie
In the small town of Everett, Michigan, where Jerry had lived all his life with his wife Marge (played in the film by Academy Award winner Annette Bening), life went by very quietly and with few memorable events. Until one day in 2003, when Jerry, recently retired, with plenty of time and little to do, passed a sign announcing the upcoming Windfall state lottery drawing. Something caught his eye in the fine print of the drawing and, in less than two minutes, he realized he had cracked the key to winning the prize.
Applying mathematics to the rules of the draw, he developed a system that allowed him to obtain assured winnings by investing a certain minimum amount of money. Thus, in a first attempt, by investing some US$1,100 in buying lottery tickets, he won some US$1,900, obtaining total winnings of US$800.
Seeing that his formula was working and that he had a great business in his hands, he decided to invest a little more each time: in the next draw, he spent US$3,600 and won US$6,300 and, in the next one, he invested US$8,000 and managed to double his winnings. Everything seemed to be going well, so he decided to tell his wife Marge. With her help, they created nothing less than an investment company, GS Investment Strategies LLC, to further optimize their resources and profits.
But Larry & Marge's dream was not only to get rich on their own, but also to help their neighbors and friends profit from their business. They invited several members of their community to join the company, selling shares to their acquaintances, which allowed them not only to accumulate greater resources to keep buying more and more lottery tickets, but also to spread the profits among their friends and loved ones.
During 2003 and 2012, the couple bought more than 18 million lottery tickets and won a total of US$26 million.
The mathematical formula for winning the lottery
Seguramente te estés preguntando cuál fue la estrategia desarrollada por Larry para llevar a cabo una de las hazañas más exitosas en la historia de la lotería. En palabras del propio Larry, "es solo aritmética básica", aunque también depende mucho de las reglas del sorteo.
A diferencia de la mayoría de las loterías del mundo, la lotería estatal Windfall tenía una regla particular: si bien para ganar en la primera categoría, un jugador debía acertar los 6 números del sorteo, en caso de que no hubiera ningún acertante de los 6 números, el premio se repartía entre los acertantes de 5 números, 4, o incluso 3. Esto garantizaba el reparto del premio en cada sorteo, lo que aumentaba las probabilidades de ganar en comparación a los sorteos que no reparten el premio en las categorías inferiores.
En su primera inversión, Larry calculó que invirtiendo un total de US$1.100 en boletos, se garantizaba la compra de al menos un billete ganador de 4 números. Y lo consiguió: ganó US$1.000 por un billete ganador de 4 números, a lo que se sumaron 18 billetes ganadores de tres números con un valor aproximado de US$50 cada uno, sumando en total US$1900 en premios.
Sin embargo, la fórmula de Larry solo era válida en sorteos que tuvieran esta regla en particular. Por eso cuando la lotería Windfall cerró, por un momento las cosas se complicaron para la pareja, hasta que dieron con un sorteo similar que se celebraba en Massachussets, la lotería Cash Windfall. Aunque este Estado se encontraba a miles de kilómetros de Michigan, Larry y Marge no lo dudaron, y decidieron viajar durante temporadas de 10 días para comprar los billetes de la lotería en las máquinas de Massachussets.
Was Larry's strategy legal?
Although many wonder if Larry and Marge's strategy was illegal, the truth is that, after an inspection by the authorities, the prosecutors in charge came to the conclusion that there was no irregularity, since the massive purchase of tickets by the couple did not prevent other players from also buying their winning tickets.
This investigation began when the authorities detected that certain machines were delivering an unusual number of winning tickets, which in turn brought to light that the Selbees were not the only ones applying mathematics to win: a group of students from the Massachusetts Institute of Technology (MIT) were also investing big.
The venture lasted until 2012, when the Cash Windfall lottery also closed down, and the couple couldn't find a new lottery that would allow them to continue applying their formulas. However, during the 8 years they were playing the lottery, they managed to accumulate a few million dollars that they are investing in their grandchildren's education. And, with the neatness that always characterized them, they still keep all the accounting books of their company, as well as more than 60 tons of lottery tickets, in case an audit comes one day.